Gilad Hekselman – Motivic Development
Characterised by subtlety, Gilad Hekselman's searching improvisational approach combines dynamic awareness with extreme rhythmic flexibility, resulting in an emotive and satisfyingly unpredictable voice.
The 15 examples below explore Hekselman's use of rhythm and dynamics in the restatement and transformation of short musical ideas or 'motifs'. This process, known as 'motivic development', can be thought of as a wider interpretation of the more literal sequencing applied by Jonathan Kreisberg and is essential to the construction of Hekselman's diverse yet coherent improvisations.
Topics covered include rhythmic displacement, repetition and metric modulation. Fingering and harmony are explained, however, the transcriptions leave picking and most articulation to individual preference.
To create your own improvisational vocabulary click here, or to improve your sight reading click here. Otherwise, comment/share/enjoy and please support the artist by purchasing the recordings from which these audio extracts are taken.
---
Highlighted in grey, this 7 note diminished pattern adds tension and rhythmic interest to a standard II-V-I progression.
Where Kreisberg's sequences generally maintain the original diatonic interval structure at each repeat, Hekselman opts for a more interpreted solution with the overall shape remaining similar but organic variation of intervallic detail as the line progresses.
Harmonies reflect accompaniment.
---
Once again, although the detail of this motif varies, general rhythmic and melodic consistency create a perceptible theme.
The motif's unusual duration (nine 16th notes) results in a polyrhythm at the first repeat, which begins on the second 16th subdivision of beat 3. This effect, referred to as rhythmic displacement, continues at each iteration.
The line's controlled resolution to F minor at bar 4 is significant – although rhythmic displacement may disorientate the listener, Hekselman maintains awareness of form throughout.
Harmonies reflect accompaniment.
---
An easy to follow rhythmic development here in the form of two minor II-V-I lines, beginning from beats 4 and 3 respectively.
Note the second line is extended by two 8th notes during bar 3, preserving the strong 7/4 clave of bar 4.
Harmonies reflect accompaniment.
---
A further example of motivic development through skilful rhythmic displacement. Note Hekselman's isolation of a melodically and rhythmically memorable motif, which is displaced by one 8th note beat at each repeat.
For those new to the topic, the motif's second iteration, which begins from the off-beat, might sound almost completely unrelated to the original on-beat version but for its melodic contour – this is the power of rhythmic displacement!
Harmonies are specific to melodic content.
---
In this case both rhythmic and melodic shape are maintained fairly rigidly as the motif is transitioned to begin from all primary beats of the 4/4 bar.
Note a second sequential rhythmic effect utilising consistent off-beat quarter notes at the conclusion – this is a recurring stylistic trait explored further in coming examples.
Harmonies reflect accompaniment.
---
Ex 6 – Purim (4:13)
Combining a series of ideas, this example serves as a helpful reminder that motivic development must not necessarily be complex in order to be musically effective.
Motif 1 (grey) shows a 4 note figure spread across five 8th notes to create a polyrhythm.
Motif 2 (blue) begins on beat 3 and is displaced by one 8th note at each repeat. Note that although iteration two is cut short by an 8th note and iteration three enters one 8th note later than might initially be expected, the overall motif shape experiences consistent displacement in each case. Purely triadic harmony contributes further to a sense of continuity throughout this passage.
Motif 3 (green) demonstrates a short but memorable approach pattern.
Harmonies reflect accompaniment.
---
The first of several examples highlighting Hekselman's use of repetition in combination with dynamic variation as a basis for motivic development.
This 5 note motif creates a polyrhythm when applied using quarter note triplets in 4/4. A decrescendo (gradually getting quieter) across line 1 adds interest.
Line 2 sees the motif transposed to C7 (tritone substitute for Gb7) and displaced rhythmically to begin on beat 2.
Line 3 returns to the original key but one octave higher and at approximately double tempo.
Harmonies are specific to melodic content.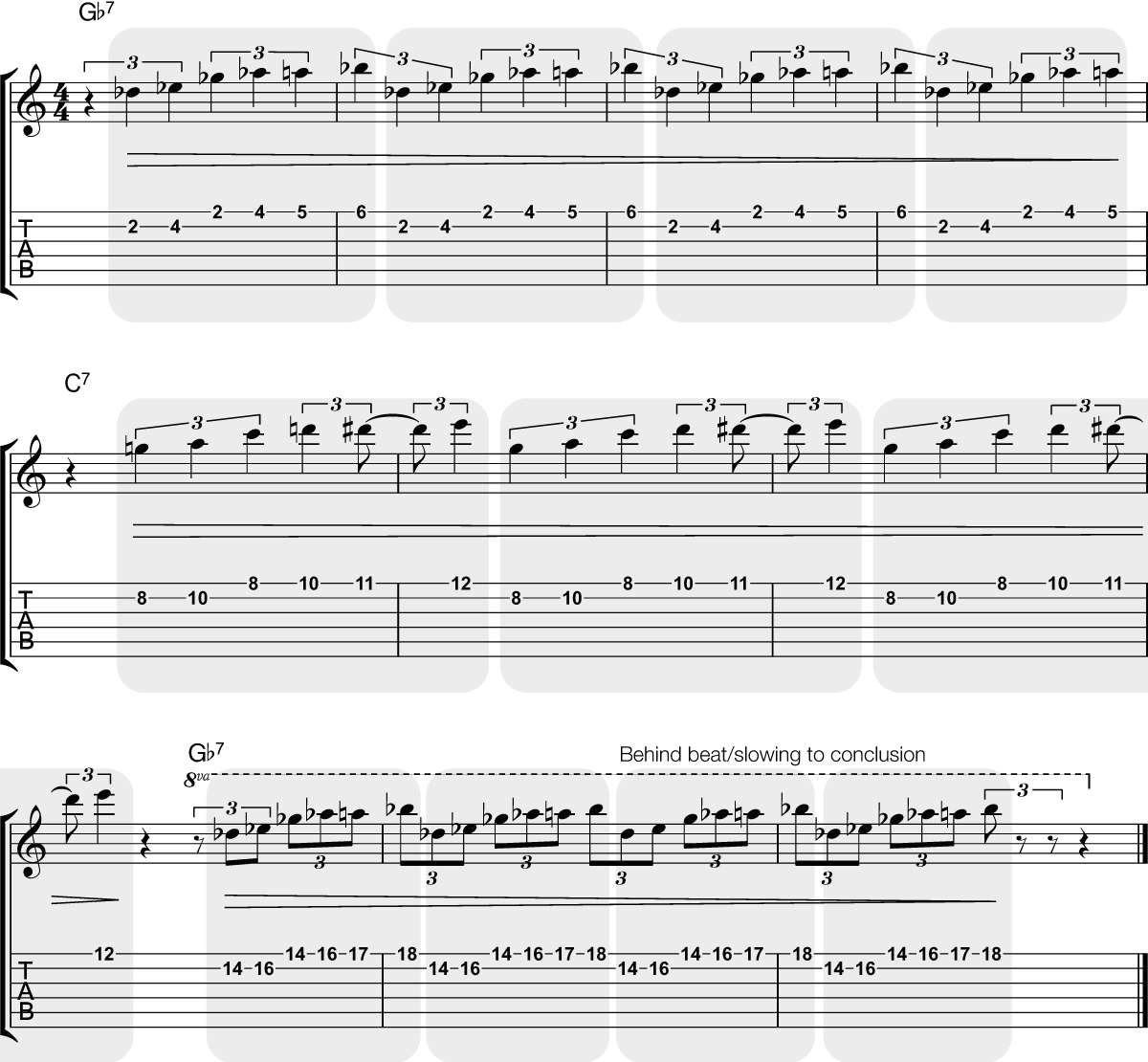 ---
Again developed through repetition, this Ab7 based triplet motif is treated with dynamic variation through line 1.
At line 2 Hekselman incorporates additional subtle but effective rhythmic and melodic deviation from the established theme (blue).
Harmony is specific to melodic content.
---
An extension of concepts explained in relation to the previous example, gradual variation of the motif across a series of repetitions.
Harmonies reflect accompaniment.
---
Ex 10 – Ga'agua (7:17)
Here Hekselman provides a further take on repetition as the basis for motivic development, engaging Gb as a pedal tone.
Notice the first motif (grey), beginning with the pedal, quickly transforms to place this pitch at the end of a rising scalar line (blue), an idea which is extended at each iteration but concludes with Gb throughout.
Harmonies reflect accompaniment.
---
A further demonstration of development around a pedal, this time combined with the use of consistent rhythmic values.
Beginning with half notes, Hekselman transitions to a repeating dotted quarter, creating interest and encouraging interactive ensemble performance through dynamic and harmonic variation.
Harmonies reflect accompaniment.
---
Once more utilising rhythmic consistency, this line demonstrates melodic variation across repeating off-beat quarter notes, an idea first seen as part of Ex 5.
Listen for the effectiveness of this technique in engaging the rhythm section and creating space for interaction.
Harmonies reflect accompaniment.
---
As per Ex 6, this passage sees Hekselman link a series of rhythmic and melodic motifs.
Line 1 engages repeating on-beat quarter notes punctuated by a recurring 'eighth-quarter-eighth' motif – see Ex 14 for further application of this figure.
Line 2 begins with a common approach pattern encircling the 3rd of each harmony before transitioning to a further example of repeated off-beat quarters.
Harmonies are specific to melodic content.
---
Given his association with drummer Ari Hoenig, it should come as no surprise that Hekselman makes use of metric modulation, the technique of implying a new pulse or meter related to that already established by a performance.
In the first instance Hekselman anticipates the 4/4 swing feel by one 8th note, maintaining this pattern for 2 bars. To aid explanation I've added rhythmic counting, highlighting each bar of the implied time feel as a motif.
Lines 2 and 3 see an extended dotted quarter note modulation, where the dotted quarter of the original tempo becomes the quarter pulse for the modulation.  Again, rhythmic counting in the feel of the modulated tempo is included. Note Hekselman's use of the 'eight-quarter-eighth' rhythmic phrase from Ex 13 in transitioning to the modulation.
Harmonies reflect accompaniment.
---
Drummer Ari Hoenig capitalises upon Hekselman's rhythmic cues for this final metric modulation example, mirroring the guitarist's modulated quarter note triplet swing feel from the third triplet subdivision of bar 3, beat 2.
This effect, established by a short passage of consistent quarter note triplets, is maintained for 6 modulated bars, each of which is marked blue. Rhythmic counting in the feel of the modulated tempo is included.
Harmonies reflect accompaniment.
---
Click here to incorporate these and other topics to your improvisations!
---
Comments
Sign up to the newsletter: